Recently, I've asked several of my blogging friends, "What inspires you?" In a world of deadlines, papers, group assignments, textbooks, dates with the library, sleepless nights, lots of naps, caffeine, COLLEGE, I find a lack of inspiration at times. I never want to feel uninspired, ever and I hope my readers are constantly inspired by something everyday whether its from someone's outfit, a lecture, a blowing leaf or Pinterest. That is my goal of this blog - that you leave inspired. I'll leave it to my blogging friends to share with you what inspires them. Let me know if you'd like to do a "What inspires you?" blog post! Without further adieu...
Hey guys! I'm Kristin and I am the girl behind
As Luck Would Have It
. I was beyond honored when Melissa asked if I would be a part of this guest post series with some of her favorite bloggers and share what inspires me - not to mention
excited
because taking the time to think about my favorite things and being
inspired
is just plain fun. The only truly difficult part was where to start! I feel inspired by so many things, but the first thing that came to mind was NATURE. I love to be outdoors and hiking a mountain trail or hopping over waves as I walk along the shore are some of my very favorite things. So here's where the fun inspiration part comes in:
I want to be able to feel the sense of peace and quiet energy that I have when I'm outdoors on the days that I have to be indoors. We spend most of our lives in our homes, right? We might as well make them our happy places. I'm starting to get pretty excited about moving into a new apartment when I make my cross-country move to start grad school in the fall and one of the best parts about moving (if you ask me) is having a whole new, fresh space to make your own. In an effort to bring nature into my every day - even those days that I'm hunched over a desk for hours or what have you - I've been gathering pictures of some seriously beautiful landscapes and thinking about how I can bring a similar feeling into my new living space. To show you what I mean, I paired up a few of those landscape photos along with some great interiors that I think really capture their feeling without being too literal in their interpretation. Because let's face it...there are very few of us that would actually enjoy having a forest in our bedroom. Take a look!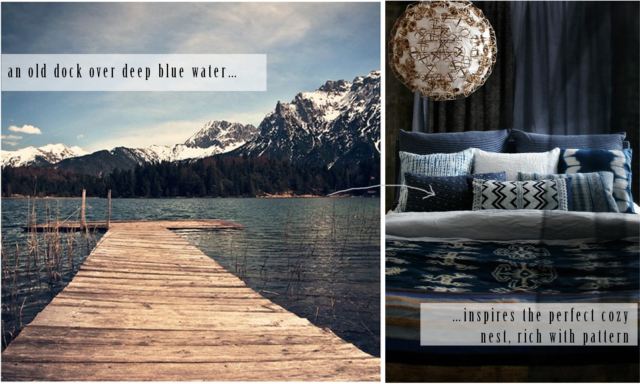 What do you think? Would you be happy calling these nature-infused spaces home? I know I would. Especially that top bedroom photo...heaven.
Thanks so much, Melissa and all of you, for letting me share. When you have a second, drop by
over here
and say hello - I'd love to have you!
________________________
Thank you Kristin for stopping by and sharing with us your inspiration for your new home and incorporating nature :) There is nothing like a serene room with a touch of nature.