It's a link par-TAY.
Welcome welcome new readers :]
Make sure you check out all the fellow October Fest readers + links! Join the partay!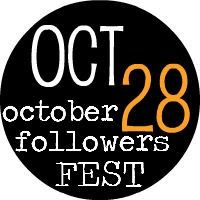 Autumn is my absolute
favorite
season. Living in the mountains is absolutely beautiful seeing the leaves change, however, this season is short-lived here. [Thanks winter] I wish I could say that my October has been filled with pumpkin carving, pumpkin-flavored everything, fall festivals and watching scary films, but due to college I can barely squeeze in time for breathing! (Kind of, but not really)
SO for this link-up party I wanted to share with you a little recap of my past Halloween costumes, because admit it, it's fun to dress up as someone completely different :] I am not one of those college students to ....you know, "dress up" as a you-know-what, instead I wear costumes that a 5-year-old probably wore too. Isn't that the best part though?
Ready?!
Also!
For a nice little Halloween treat, one of my favorite singer/songwriters has her song "Zombie" as a
free download
on her site in spirit of Halloween.
Check it out!
& thank you to those who commented on my last post. Just keep the Funtila and Larsen family in your prayers.
Another lovely treat?
A Dose of Lovely
is hosting a
MITTENS giveaway
. Click to check it out.